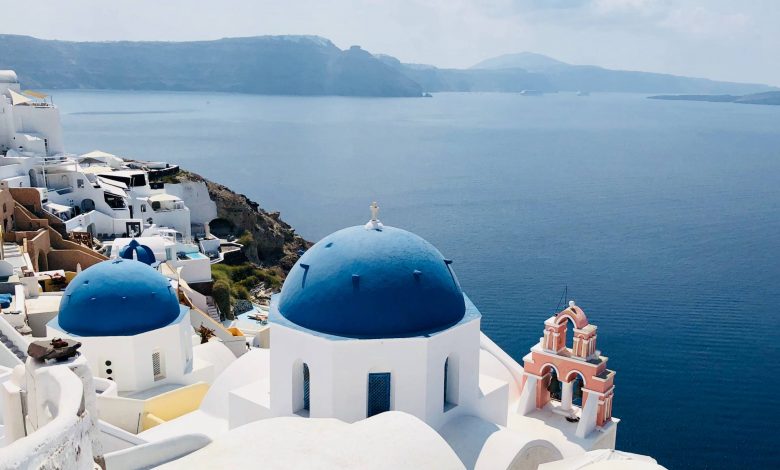 Escape to Santorini for a dreamy, one-of-a-kind couple's retreat. This alluring island in the Aegean Sea flaunts hillside sanctuaries that overlook the caldera, beaches bedecked with volcanic rocks, and sunsets that stun all senses. Along with its ravishing charm, Santorini also showcases mouthwatering gastronomy and lively nighttime scenes. Whether you're longing for serene repose or daring escapades, Santorini's got your back. Follow our guide to elevating your stay for an experience you'll never forget!
Why Santorini is the best place for a romantic getaway
Perched on cliffs overlooking the azure sea, Santorini's charming villages offer breathtaking views at every turn. This stunning volcanic island is situated in the southern Aegean Sea, where natural beauty and romantic allure interact perfectly.
Hilltop hideaways offer a front-row seat to some of the most stunning sunsets found on the planet, as hues of pink, orange and red gracefully spill across the Santorini sky. It's the perfect spot for couples hoping to escape the hustle and bustle of daily life and unwind in each other's company.
What to do in Santorini
Santorini offers more than just natural beauty – it's perfect for couples seeking a romantic retreat with plenty of unique experiences. You can savor exquisite cuisine at charming tavernas tucked away in picturesque alleys or take leisurely strolls along black sand beaches. The island is also brimming with adventure, such as hiking through vineyards or discovering ancient ruins. For an unforgettable escape with your significant other, Santorini should top your list.
There's a lot for couples on a romantic retreat to enjoy in Santorini due to its amazing scenery and unprecedented charm. Begin the day with a spectacular sunrise over the Aegean Sea from Oia Village. Go for a stroll down the quaint pathways of this lovely hamlet and take in the unique Cycladic architecture.
For those seeking adventure, hike up to Skaros Rock and be treated to breathtaking panoramic views of Santorini. Then, head to the famous Red Beach where the dramatic red cliffs surround crystal clear waters perfect for relaxation.
When you are out and about on your trip, make sure to not only partake in outdoor activities but also check out the cultural sites. Roam among art galleries and studios along the winding streets of Pyrgos village or explore the ancient Akrotiri archaeological site.
While staying in Santorini, you can make unforgettable memories filled with romance. Sip on cocktails at cliffside bars in Fira town or Amoudi Bay while enjoying the famous sunsets. Choose to end your day this way, and you won't regret it.
Where to stay in Santorini
The Aegean Sea and Santorini's volcanic scenery are quite the sight for couples in search of a romantic escape, with an array of accommodation options to choose from. A favorite choice seems to be the hilltop sanctuaries, which grant spectacular views.

For those craving luxury, five-star resorts and villas are sprinkled throughout the landscape with offerings of delightful gourmet dining experiences, spa services, and private pools.
For those on a budget, Santorini has plenty of affordable hotels and guesthouses that still offer breathtaking views and comfortable amenities. Some even have rooftop terraces where you can enjoy some local wine with your significant other while watching the sunset.
Staying in one of the renowned cave houses on Santorini is another unusual choice. Thousands of years ago, these traditional homes were carved into the island's cliffs; today, they serve as charming vacation rentals.
No matter where you choose to stay in Santorini, be careful to book well in advance since availability can be limited during peak travel season.
What to eat in Santorini
With its breathtaking scenery and enchanting atmosphere, Santorini is a true paradise for foodies. The variety of flavors that this island has to offer is simply irresistible, thanks to the unique ingredients that grow on its volcanic soil. This makes it a must-visit destination for anyone who loves to indulge in delectable dishes.
Indulge in Santorini's exquisite seafood fare and marvel in the diverse range of fish dishes it offers. Venture to one of the beachside eateries and savor the traditional grilled octopus or relish in a creamy bowl of lobster pasta. Seafood enthusiasts, this is your haven!
Don't forget to try the lamb dish, a favorite among meat enthusiasts, made with Greek seasonings and sourced from farms in the vicinity. And, make sure to try souvlaki, consisting of marinated pork or chicken skewers served with pita bread.
Try Santorini's famed tomato fritters and signature yellow split pea fava dip if you're a vegetarian. For a delectable dessert, indulge in honey syrup-glazed baklava or Greek donuts, loukoumades, dusted with cinnamon sugar.
Produce unique grape varieties, including Assyrtiko white wine, at the vineyards on the island, are famous for. Accompany your meal with local wine.
Santorini's dining scene is brimming with unforgettable experiences for every imaginable taste bud.
How to get around Santorini
Thanks to its well-established transport system, getting around Santorini is quite simple. It is recommended to use rental vehicles or public transport since the island has a restricted taxi service.
Renting an ATV or scooter is a popular method to explore the island's narrow streets and steep hills without the hassle of looking for parking spots. Wearing protective gear like helmets is a must with this mode of transportation, so it's also crucial to drive responsibly.
Travelers wanting to save cash while traversing through various parts of Santorini can opt for local buses. These buses connect the majority of the towns on the island, making it an affordable and convenient way to sightsee.
Travelers of all kinds can partake in private tours that offer extra opulence and ease. Among the various choices for these tours are coastal sunset cruises or wine tastings at vineyards.
In Santorini, prioritize safety above all else, regardless of your preferred mode of transportation. This is particularly important when navigating unfamiliar foreign roads.
Without a question, Santorini is the ideal location for a romantic trip for couples. It offers everything required for an unforgettable vacation, from the breathtaking views of the hilltop hideaways to the lovely volcanic beaches.