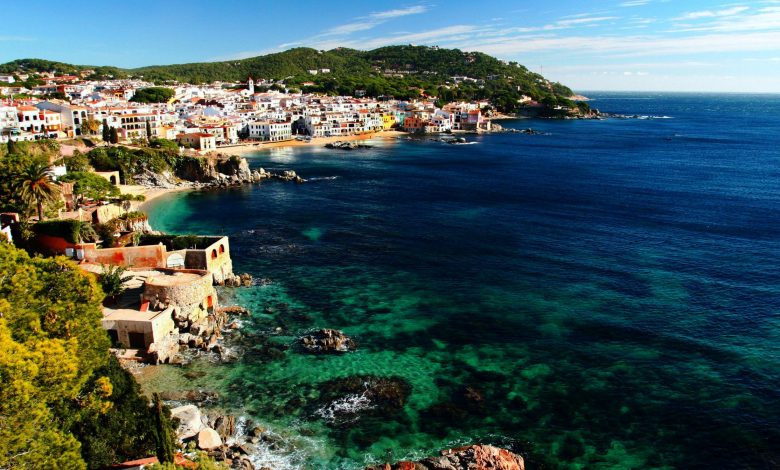 Looking for a holiday destination that has it all? We'll explore why Costa Brava should be at the top of your list for your next holiday destination!
The climate
With its Mediterranean climate, Costa Brava is a favoured spot that attracts tourists year-round. The temperate weather of hot summers and mild winters serves as one of the key reasons for its popularity.
Crystal-clear waters of the Mediterranean Sea await those who visit during the summer months, with temperatures as high as 30°C (86°F) perfect for sunbathing on the beaches or taking a quick dip. Even in winter, outdoor activities are possible with temperatures rarely dropping below 10°C (50°F). Say goodbye to freezing cold outings!
During peak season, many coastal destinations can feel sticky and uncomfortable because of their high humidity levels. However, Costa Brava beats other locations since its climate boasts of low humidity, making it dry and pleasant even during hot temperatures. This feature stands out as another great thing about Costa Brava that many other areas lack.
Costa Brava is a top pick for those seeking warm weather without too much humidity.
The food
With its delectable gastronomy, Costa Brava is an ultimate vacation spot that you shouldn't miss. Its mouth-watering offerings cater to a range of tastes and preferences, making it a food haven for everyone.
Ambrosial dishes in Costa Brava's restaurants are infused with Mediterranean spices and fresh ingredients, chiefly seafood, veggies, and danglin' dollops of olive oil. Delve into the famously traditional paella, fideuà (a scrummy noodle dish), suquet de peix (warm fish stew), and tantalizing botifarra amb mongetes (sausage with beans).
Throughout the region, one can uncover an abundance of contemporary culinary options in addition to the timeless dishes. Innovative chefs have skillfully crafted their own unique spin on age-old recipes, which produce unexpected and exhilarating flavor combinations.
Local specialties that you won't find anywhere else are worth trying after your meal. Be sure to have a taste of crema catalana or xuixo if you're looking for something sweet.
Several vineyards in Costa Brava produce excellent wine from local grapes, which you definitely shouldn't forget to try.
Exploring the culinary wonders of Costa Brava is a must for anyone who fancies themselves a foodie!
The people
Unforgettable holiday experiences are often shaped by the people of the destination you choose. Costa Brava boasts some of the most cordial and hospitable locals in Spain, making it a prime choice for your next vacation destination.
As soon as you set foot upon your arrival, you'll bask in the hospitality of amiable individuals who are enthusiastic about assisting you with any queries or issues. The inhabitants hold their land's magnificence in high esteem, and they are thrilled to divulge their most treasured insider information with tourists.
Opportunities to experience the vibrant culture of the people of Costa Brava are plentiful, as they hold their community dear and revel in celebrating it through festivals, events, and cherished customs. You could even join them in traditional dance routines like sardana, or treat your palate to scrumptious local fare like paella or seafood dishes crafted from fish caught right there— the kind of experience that is bound to be unforgettable.
The scenery
Spain's Costa Brava offers an unforgettable holiday experience with its awe-inspiring natural beauty, from sandy beaches and crystal-clear waters to rugged coves. The stunning backdrop of the rock coast only adds to the charm.
From the tranquil coves to sandy beaches enveloped by pine canopies, Costa Brava's scenic magnificence is accentuated by its numerous beaches, making beach-goers out of everyone. Playa de Aiguablava and Cala del Pi are a few of the most sought-after options.
Hiking trails in nature reserves like Montgrí Massif Natural Park and Cap de Creus Natural Park offer breathtaking views over the sea. Away from the coast lies the vast exploration of beautiful medieval villages such as Pals, and the lush rolling hills of Emporda wine country.
Costa Brava's awe-inspiring landscapes are perfect for stunning photographs, no matter what your interests may be. Ensure to bring your camera!
Costa Brava vs. the rest of Spain
In Spain, selecting the perfect vacation spot can be tough, but the Costa Brava is truly one-of-a-kind and caters to all preferences.

The perfect choice is Costa Brava – a region of welcoming locals, stunning beaches, and rugged coastlines. Whether adventure or relaxation is your aim, this place has something for everyone. Delicious food awaits you too.
Away from the busy city life of Barcelona and Madrid, Costa Brava sets the stage for a peaceful and immersive nature experience. It's a popular destination that provides a laid-back atmosphere compared to other typical locations in Spain.
For your next holiday, why not opt for Costa Brava? Its mouth-watering cuisine, friendly locals, beautiful landscapes, and rich culture make it a perfect vacation destination. Get set for an unforgettable holiday experience by booking your tickets now!
How to get there
The region boasts three primary airports, which provide effortless access to Costa Brava: Barcelona-El Prat, Girona-Costa Brava, and Perpignan-Rivesaltes. It's worth noting that Girona-Costa Brava airport is the region's nearest airport.
Direct train and bus routes make reaching Costa Brava from major European cities like Paris, Lyon and Marseille easy. Specifically, international trains to Girona station and direct bus services from France and Spain are available.
Road-trippers looking for more freedom on their Costa Brava tour may find renting a car a viable choice. This option allows travelers to uncover nearby hotspots at their leisurely rate. Fortunately, navigating the coastal region's thoroughfares is a breeze, meaning newcomers have no trouble seizing the day.
Getting here has never been simpler with so many transportation options available in Costa Brava. Its efficient public transport system includes buses, taxis, and bike-sharing schemes in some areas, making getting around a breeze once you've arrived.
So why not pack your bags and head off on an unforgettable trip to Costa Brava? You won't regret it!